I love being a mom.

More specifically, I love being my sweet little Peanut's mom. I love her more with every day that passes. We had one of those great days today that makes you wonder what you ever did to deserve such amazing blessings from God. We went to the zoo and had fun "talking" to the animals and then had some playtime in the park. After a nice nap when we got home, I whisked her away to play in the weeds buttercups that are blanketing our backyard.

She is constantly making me laugh,
and charming me with her funny faces,
and she's even cute when she's crying.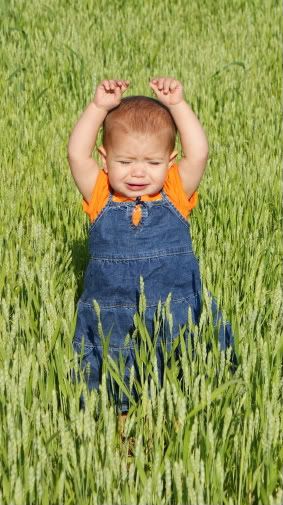 I would feel like the luckiest person in the world, except I don't belive in luck. For some reason, God has seen fit to bless me and Justin with this beautiful little person to nurture, teach and care for. That thought is really humbling to me.
My daughter makes me a better person every day. I want to be worthy to be her mother. I want to look back on these precious days with her and not have any regrets.

Mother, O Mother, come shake out your cloth,Empty the dustpan, poison the moth,Hang out the washing, make up the bed,Sew on a button and butter the bread.Where is the mother whose house is so shocking?She's up in the nursery, blissfully rocking.
Oh, I've grown as shiftless as Little Boy Blue,Lullabye, rockabye, lullabye loo.Dishes are waiting and bills are past duePat-a-cake, darling, and peek, peekaboo
The shopping's not done and there's nothing for stewAnd out in the yard there's a hullabalooBut I'm playing Kanga and this is my RooLook! Aren't his eyes the most wonderful hue?Lullabye, rockaby lullabye loo.The cleaning and scrubbing can wait till tomorrowBut children grow up as I've learned to my sorrow.So quiet down cobwebs; Dust go to sleep!I'm rocking my baby and babies don't keep.
-Ruth Hulburt Hamilton
This poem has been circulating in the blogging world, but it's been always been a favorite of mine. The message is so simple, but it's one of the easiest things to lose sight of in this crazy, busy world. I want to cherish simple days like today and savor every second I have with my baby. Tomorrow she'll be all grown up and I want to look back and smile fondly on the special times we shared.